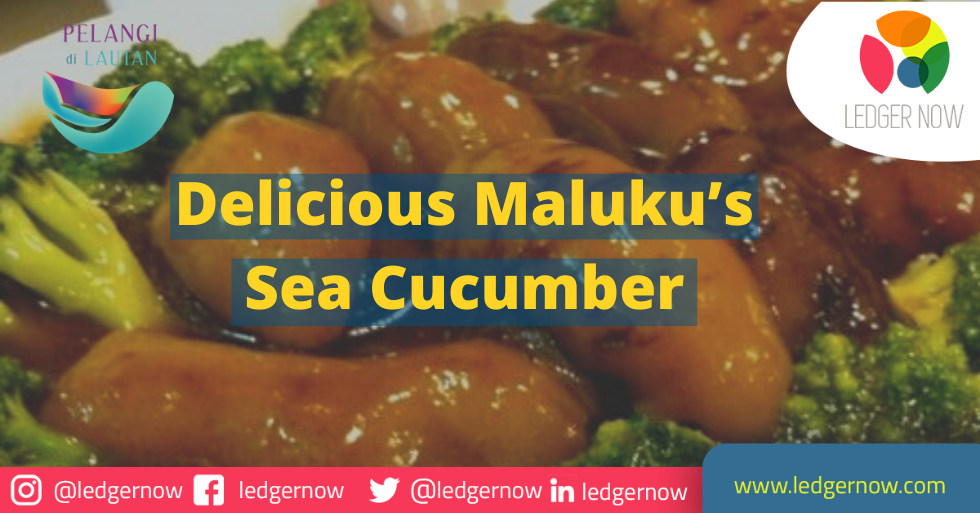 Artikel ini adalah bagian dari program #PelangiDiLautan : Kesejahteraan untuk senyum di laut
Program ini merupakan kolaborasi antara beberapa perusahaan berbasis blockchain untuk memperkenalkan dan mengeksplorasi teripang secara lebih luas, meningkatkan standar hidup dan kesejahteraan nelayan, serta berkomitmen untuk mewujudkan ekosistem ekonomi yang lebih baik.
Tulisan-tulisan dalam artikel #PelangiDiLautan terinspirasi oleh pengalaman yang dilakukan di daerah Saumlaki, Maluku Tenggara Barat. Namun, beberapa karakter, karakter, acara, lokasi, dan dialog adalah fiksi dan disusun secara dramatis agar lebih menarik. Jika ada kesamaan dalam nama karakter, tempat kejadian atau cerita, itu hanya kebetulan dan tidak ada unsur niat
Entering the holiday season Adit, Gilang, and Sarah spend their vacation to visit  the island of Ambon. According to them Ambon Island is rarely used as a tourist choice for the people, and they want to visit it to feel a more challenging vacation. 
On Ambon Island, Adit, Gilang and Sarah lived in the house of Sarah's aunt who had been living there for a long time in Ambon following her husband. By using accommodation from his aunt, their vacation budget becomes more efficient. Auntie Sri is often visiting tourist attractions in Maluku, so that their vacation becomes easier by following the recommendations places from auntie Sri. Mostly aunty Sri recommend a lot of beaches that are still very beautiful to visit but also very aesthetic to take pictures. In fact, they have to make a long list of trips to visit all the tourist recommendations. 
In addition to tourist sites, the thing that is highly anticipated is to try the sea cucumber culinary cuisine that is rarely recognized by the city community. Sea cucumber is a marine animal that looks worm-like but turns out to be very good for health. Aunt Sri said that city children should taste these foods to prevent diseases from junk food which is often consumed. 
The first time they saw the shape of Sea Cucumbers, they were frightened and disgusted with this one animal. The shape is indeed very unpleasant, but who would have thought if it has been processed properly will create extraordinary tastes. Aunty Sri indeed often ordered Sea cucumbers for her and her family for daily consumption, so they too tasted this one sea animal. 
Aunt Sri is a housewife, so she is diligent in making delicious new recipes. This time he served stir-fried sea cucumbers, and fatty vegetable sea cucumbers, in fact many other dishes he prepared, but the main menu served was processed sea cucumber food. Aunt Sri is very eager to wait for the response of Adit, Gilang and Sarah for their first try of sea cucumbers. 
Sarah was initially hesitant to taste it, she was still shadowed by the shape of the Sea Cucumber before. Adit who felt reluctant to the spirit of auntie Sri who had bothered to serve food immediately tried to taste stir-fried sea cucumbers with a spoonful of rice. Adit's response turned out to be unexpected by his two friends, he immediately took many sea cucumbers into his plate, he suggested his friend to taste it without imagining its shape. Adit said that sea cucumbers do not have a disgusting distinctive taste, the texture is like a mushroom that is chewy and delicious coupled with spices stir cooking aunt Sri. Gilang and Sarah ventured to taste the sea cucumbers, and it is true what Adit said, the sea cucumbers did not have a disgusting texture, even very delicious to eat with hot rice and spices aunt Sri's cooking. Seeing their response, Aunty Sri was proud that they like it, she even asked them to add as much rice as possible. 
Aunty Sri told them that this Sea Cucumber is quite expensive, this weird marine animals has a fantastic price, it can even reach millions of rupiah for a kg. Adit, Gilang and Sarah were shocked by the price mentioned by Aunty Sri, for this type of animal turned out to have a fairly expensive price and Aunty Sri still wanted to buy it. 
It turned out that the reason aunt Sri who wanted to buy this marine animal was because of the benefits contained in this Sea Cucumber. Sea cucumbers, which have a variety of nutritional content, can even prevent cancer and make the skin look young. Aunt Sri has been consuming this sea cucumber for quite a long time, it is only natural that her family is rarely affected by a serious illness, and the fact that Aunt Sri's skin is radiant even though she lives in a coastal area. Sarah also searched for the nutritional content of sea cucumbers through Google, and indeed sea cucumbers contain various kinds of nutrients that are rarely owned by other marine animals. 
Aunty Sri really hopes that the city community should also taste these marine animal, seeing the number of young people who are susceptible to disease. Gilang want to help spread the sea cucumbers to the city, his father who worked in the blockchain-based supply chain technology so that it would be easier for fishermen to connect with consumers in the city. 
Ledgernow with blockchain-based technology provides facilities for sea cucumber fishermen to process sea cucumbers using modern technology that makes it more hygienic and easier. Sea cucumbers are processed properly will maintain the quality of the nutritional content of sea cucumbers which will be very good to consume. These good quality sea cucumbers will later be sold to consumers with the help of blockchain technology that makes it easy for consumers to order these quality sea cucumbers through Ledgernow. Ledgernow helps maintain the quality of sea cucumbers properly to be accepted by consumers freshly. Delivery of goods uses a blockchain technology system where the data will be stored automatically and can be monitored in real-time with secure data security. Ledgernow supports the welfare of fishermen in developing the economy of Indonesian and the development of fishermen's economy. Click the following link for more information on www.ledgernow.com 
Temindo (Teknologi Mandiri Indonesia, PT)
TEMINDO is a company that provides business automation solutions for the integration and collaboration of companies with blockchain technology.
Website: https://www.temindo.com/
PureHeart
PureHeart is an initiative based on social activities committed to sustainable development goals with end-to-end blockchain technology so that the standard of living of Indonesians is increasing.
Website: https://pureheart.ledgernow.com
SSC (Sustainable Supply Chain)
SSC (Sustainable Supply Chain) is a blockchain solution for fast and safe collaboration for companies in the supply chain that aims to reduce operational costs, improve customer service and accelerate the delivery of goods and services to consumers.
Website: https://www.ssc.co.id/
YONK
YONK is a financial management application for SME owners (Micro, Small and Medium Enterprises) so that they get real time financial reports with prediction analysis features to help improve the credibility of MSMEs to finance companies (Financing Companies) using blockchain technology.
Website: https://www.yonk.io/
AELL
AELL is a solution to help manage digital medical record data integrated and integrated between hospitals and clinics so as to speed up the process of patient care, facilitate referral and protect patient data with blockchain technology.
Website: https://www.aell.co/
Global Usaha Semesta
Global Usaha Semesta is a solution in the fishing industry related to trade, transportation, agriculture and fishing production services. Serving as the core that supports the operational needs of fishermen partners / plasma in the form of support for fisheries equipment platforms, industry and financing with blockchain technology. Website https://globalusaha.com/