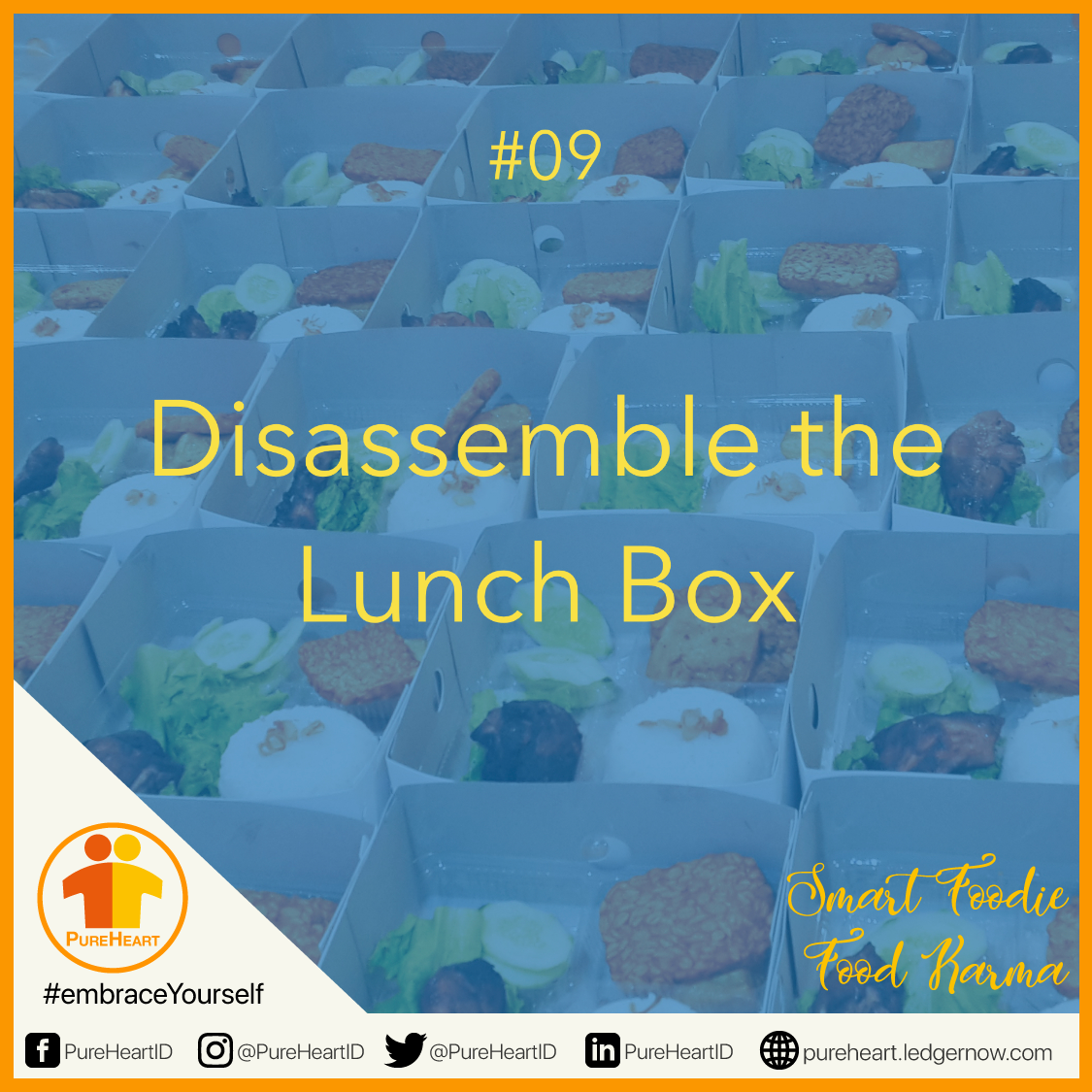 Balada Nasi Kotak
Jamuan nasi kotak selalu disajikan dalam keadaan rapi tersusun bertumpuk-tumpuk. Nasi kotak diterima dalam keadaan bagus. Makanan tersaji dengan susunan yang menggoda. Kita bisa memilih mau makan bagian mana dulu hingga akhirnya ludes dan perut kenyang dengan senyuman mengembang.
Namun apa yang terjadi setelahnya? Ternyata kita membuangnya dalam keadaan sama seperti kita menerimanya. Bedanya isinya sudah kosong dan lebih ringan. Sayangnya tidak ada tempat untuk menampung kotak makanan tersebut, dan akibatnya selalu penuh, tercampur kertas karton kotaknya, sendok plastik, penampan plastiknya, tisu, termasuk sisa makanan.
Tantangan kali ini sedikit ekstrim, karena jarang sekali dilakukan oleh khayalak umum. Yaitu, membongkar kotak makanan. Penjamu seharusnya menyediakan 3 tong sampah, yaitu, tong sampah kertas, tong sampah plastik dan tong sampah sisa makanan. Seharusnya kita dapat menggunakan sedikit dari energi yang dihasilkan dari makanan yang sudah dimakan untuk membongkar kotak makanan dan membuang ditempat yang sudah disediakan. Kelemahan proses ini adalah waktu buang sampah akan menjadi lama.
Sebagai generasi kreatif yang selalu berpikir kritis, coba bantu PureHeart bagaimana cara membuang sampah kotak makanan yang cepat dan praktis.
A story of Lunch Box
The Lunch boxes are always served in neatly arranged piles. We receieve the lunch boxes in good condition. Food is served in a tempting arrangement. We can choose to eat which food first until we finally finish and the stomach is full with a beautiful smile.
But what happens after that? It turns out we throw it in the same state as we received it. The difference is the contents are empty and lighter. Unfortunately, there is no place to hold the food box, and as a result the bin is always full, mixed with box carton, plastic spoon, plastic tray, tissue, including leftovers.
The challenge this time is a bit extreme, because it is rarely done by us. It is disassemble the food box. The host should provide 3 trash cans, which are paper trash cans, plastic trash cans and leftover food trash cans. We should be able to use a little of the energy produced from food that has been eaten to disassemble the food box and dispose of it in the space provided. The issue of this process is that the time to dispose of garbage will be long.
As a creative generation that always thinks critically, please help PureHeart how to throw of lunch boxes that are fast and practical.
More information:
Smart Foodie, Food Karma: https://pureheart.ledgernow.com/smart-foodie-food-karma/
Sustainable Giving: https://pureheart.ledgernow.com/sustainable-giving/