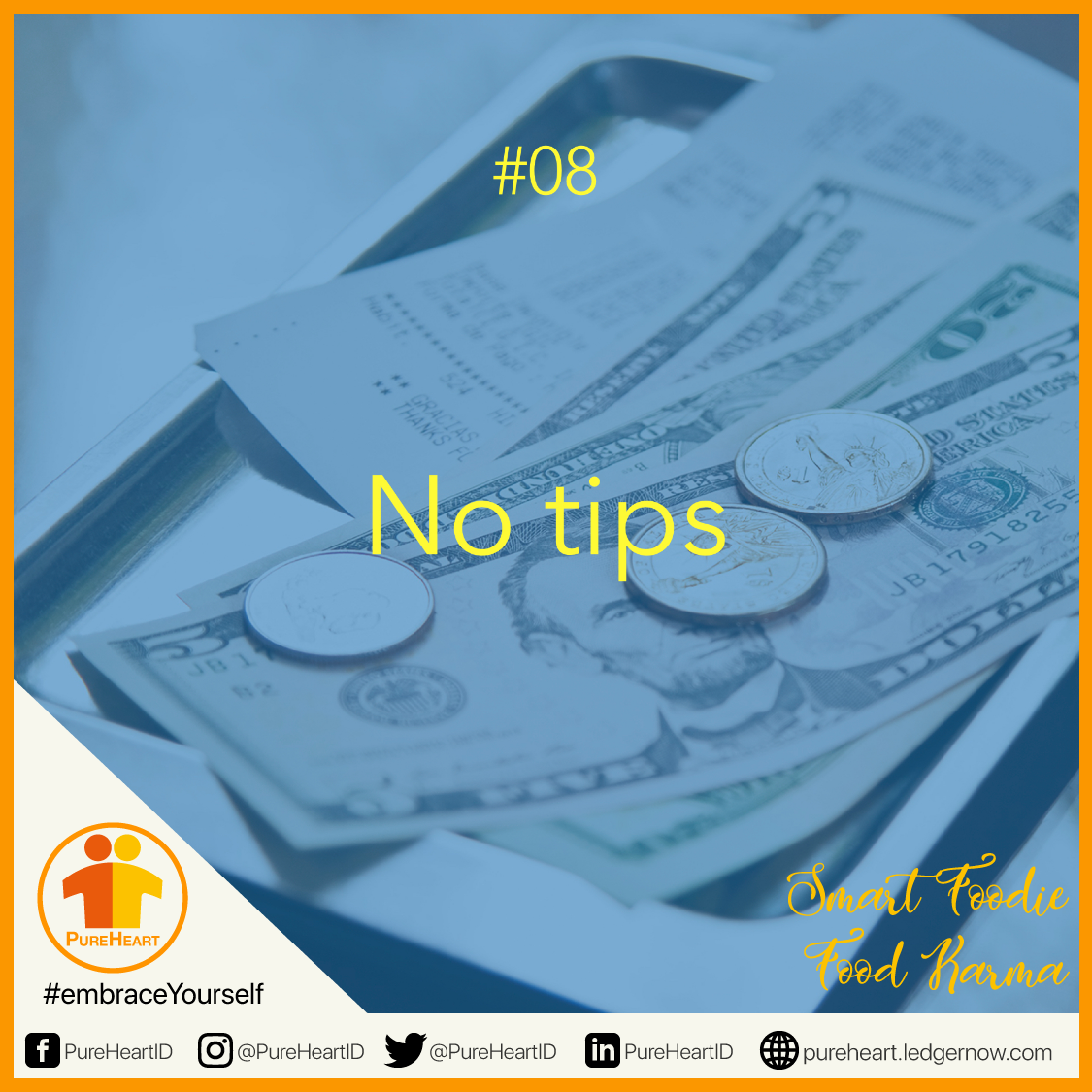 No Tips
Memberikan tips memang bukan hal baru. Ini hanyalah berdasarkan keikhlasan masing-masing. PureHeart mengkampanyekan untuk tidak memberikan tips setelah makan karena 2 alasan utama.
Pemilik Restoran dan kafe wajib memberikan gaji yang layak kepada karyawannya sehingga mereka dapat bekerja dengan semangat dan sesuai standar yang dibakukan. Hal ini menjaga kualitas dari produk dan jasa yang dihasilkan sesuai dengan apa yang telah dijanjikan bukan karena ada iming-iming tertentu.
Sebaiknya, keinginan untuk memberikan tips disalurkan kepada masyarakat yang tidak mampu. Dengan perkembangan teknologi dewasa ini, kita dapat melakukan perhitungan "tips" secara otomatis sesuai dengan konsumsi pangan kita, dan dapat langsung disalurkan kepada lembaga-lembaga yang fokus pada pelayanan kepada masyarakat yang tidak mampu. Inilah yang disebut sebagai "Sustainable Giving", donasi yang berkelanjutan.
Kita dapat menjaga standar mutu pelayanan sekaligus dapat berdonasi kepada sanak-saudara yang lebih membutuhkan. Itulah. yang disebut "Generasi PureHeart".
No Tips
Giving tips is common. This is only based on each sincerity. PureHeart campaigns not to give tips after eating for two main reasons.
Restaurant and cafe owners are required to provide decent salaries to their employees so that they can work with enthusiasm and according to standardized standards. This maintains the quality of the products and services produced in accordance with what has been promised not because there is a certain lure. This is the definition of "Sustainable Giving".
It is better if you want to give tips to those who cannot afford it. With today's technological developments, we can calculate "tips" automatically in accordance with our food consumption, and can be channeled directly to institutions that focus on service to the poor.
We can maintain service quality standards while also being able to donate to relatives who are more in need. That is "PureHeart Generation"".
More information:
Smart Foodie, Food Karma: https://pureheart.ledgernow.com/smart-foodie-food-karma/
Sustainable Giving: https://pureheart.ledgernow.com/sustainable-giving/